Doors and windows contribute greatly to your home's exterior charm. Summer's the perfect time to beautify them, both for your own enjoyment and to make the house more attractive and inviting. The following are a few ideas to help you spruce up your window ledges and front door threshold.
FRONT DOOR THRESHOLD
  1. Plants are always a plus
Planters are just as pretty next to your front door as they are in window boxes. Flowers add a touch of colour and convey a promise that the inside of the house is as appealing as the outside. If you have a small garden plot next to your door, make the most of it. You can also use it to plant shrubs or other perennials that don't require much maintenance, as it's a spot that can sometimes be forgotten when you're busy with other gardening chores.
  2. A bench to beckon visitors
We all like to feel welcome when calling on friends. Why not place a small bench at your front door as a greeting to visitors? In summer, a few cushions will make it even more inviting.
  3. Lighten up!
Outdoor lighting adds a distinctive charm to your home, particularly if you opt for warmer yellow lighting rather than white lights. For practicality and to save money, install a lighting fixture with a motion detector.
WINDOW LEDGE
  4. Herb gardens
Combine the practical and pretty: plant a herb garden in your window boxes, preferably outside your kitchen window so that you always have easy access while preparing your favourite dishes!
  5. Window boxes: instant charm!
For more impact and volume, plant your flowers close together in your window boxes. The summer months offer a wide variety of blooms, from petunias and impatiens to geraniums, and all are ideally suited to our climate. Hanging plants such as petunias can also add a lovely country look to your home's exterior.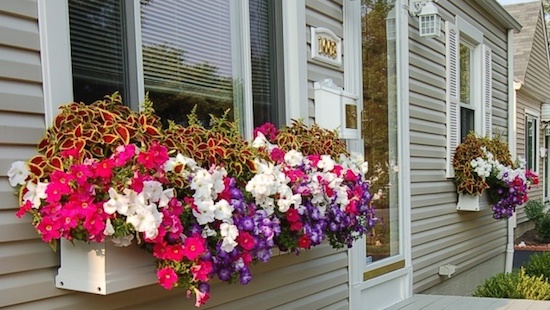 Interested in learning more about our windows and doors? Contact a Vaillancourt Doors and Windows advisor, who will be pleased to help you!