Our resistant paint is offered in an unlimited quantity of colours which is an obvious benefit for our clients: their doors and windows are beautiful and will stay that way for a long time.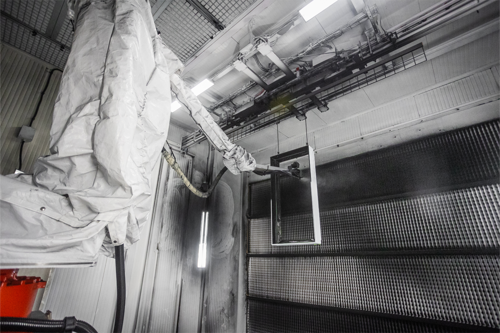 The growing demand for coloured products led our research and development team to push our service offering a bit further: we implemented our own paint room in 2009 and our robotized line in 2019.
Today, our 12,000 sq. ft. room combined with the best equipment available on the market allows us to offer high-tech painting in a controlled environment. Since the paint is applied in our facility, you also avoid any risk of breakage that could occur during transport to an external paint room.
To meet the high demand for our doors and windows, we are proud of the acquisition of our robotized line for the paint application. This equipment allows us to modernize and automate part of our operations and thus increase our production capacity. The development of this technology also allows us to save energy, since the space reserved for robotization requires less outside air.
Our paint and application procedures
Our unique application procedure makes the paint highly resistant to chipping, splitting and cracking. Our paint's composition is also of the highest quality: 2-component acrypolyurethane base that is resistant to scratching, fading, salty environments and industrial pollution. It also reduces the buildup of surface heat and offers excellent shine and colour protection.
🍃 Our paint, now water-based, is made from raw materials that limit the risks to humans and the environment, notably by reducing its volatile organic compound (VOC) emissions by up to 90%.
Technical specs
The Hydrotop premium in our paint, a semi-gloss (40°) enamel with flexible 2-component acrylic urethane adheres to PVC, prepainted steel and aluminium. It offers outstanding performance and is certified according to the AAMA 613, 614 and 615 standards.
Anodizing for hybrid windows (PVC and aluminium)
If you choose an anodized finish for your windows, you will benefit from a finish that is highly resistant to corrosion and aging. This finish is the trend for contemporary-style homes.
Technical specs
The light grey colour of anodization (that can be painted in the colour of your choice) is obtained through an electrochemical process that converts metal surfaces into oxides of that same metal. The anodization forms a coat of aluminium oxide around the part to protect it from corrosion and aging. The anodic coating is not applied to the surface like paint or plating, but rather completely integrated into the aluminium substrate.
Customized door and window colours
Our colour choices are unlimited: if you don't find the colour you are looking for in our standard colour list, simply provide us with a sample of the colour you want, and we will develop it for you.
Interior and exterior colours for doors and windows
You can choose white, black or custom colours for the interior as well as the exterior of your products— you don't even have to choose the same colour for the two sides!
Imitation wood finish doors
Among our tints and colours, you may also choose imitation wood: the same look, but less expensive than real wood and maintenance-free, too!
Our paint guarantees personalized doors and windows for all tastes in addition to reducing the environmental impact of their production.