Meet the advisors at PVCO Granby for your door and window projects in Saint-Alphonse-de-Granby: check out a few models in our showroom and see all the options available!
Business hours
Monday thru Friday: 8:30 am - 5:30 pm
Saturday and Sunday: Closed
Address
104-A Germain St.
Saint-Alphonse-de-Granby Québec
J0E 2A0 Request a quote
Entry doors, sliding doors and garden doors in Saint-Alphonse-de-Granby
Various entry, sliding and garden door models are available from PVCO Granby in Saint-Alphonse-de-Granby: steel entry doors in the configuration of your choice, regular or lifting sliding doors, garden doors with movable or fixed parts… various custom options are available. The paint application process for doors is also completely controlled in our very own Vaillancourt Doors and Windows paint chamber while the paint itself is highly resistant to chipping, splitting and cracking.
Architectural, sliding, casement, hung and awning windows
All Vaillancourt Doors and Windows models in PVC or hybrid materials (aluminium & PVC) are available at PVCO Granby for a home that reflects your taste 100%. In addition, you may choose the desired colour from among our basic colour collection or request a custom colour that Vaillancourt will develop for you. Adding grilles, bars and moulding is also possible.
Sale, installation & after-sales service at PVCO Granby
Vaillancourt Doors and Windows personally trains all retailers so they can advise you properly about their products. In addition to helping you with your choices, rest assured that PVCO Granby in Saint-Alphonse-de-Granby will also take care of the seamless installation of your doors and windows.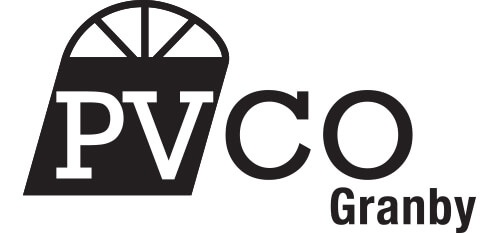 Request a quote