When the time comes to replace your doors and windows, you'll no doubt take into account the current trends and available styles and colours as well as the energy efficiency of the products you're looking at. However, people often overlook one other key aspect: hardware. That said, door and window hardware is a key component of the equation. Besides its important esthetic aspect, hardware plays a critical role in keeping your home safe. The following are some tips for choosing the right hardware for your doors and windows.
Window hardware
When it comes to windows, hardware options are generally limited in that the manufacturer recommends hardware to go with the window model chosen. At Vaillancourt Doors and Windows, two opening mechanisms are available for crank windows: single or dual-arm operator.

Single-arm operator                                       Dual-arm operator
Which operator is used depends on the size of the opening panel. The dual-arm operator is used for larger casements so that the window opens smoothly with little effort. To ensure that the operator you depend on to open and close your casement window is built to last, we have also designed and incorporated a unique galvanized steel reinforcement.
However, you still need to choose the finish for the mechanism. Our hardware comes in beige enamelled steel, but a stainless steel option is also available. Over and above its pleasing esthetic, stainless steel never corrodes, providing additional strength and durability.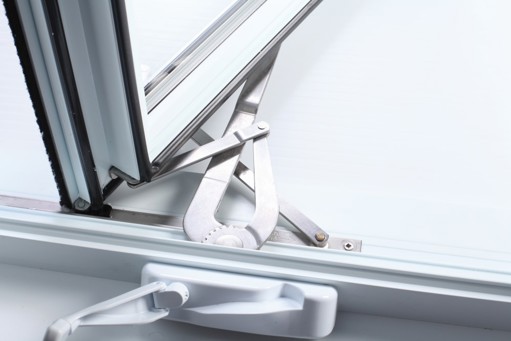 Stainless steel hardware
Patio door hardware
The possibilities grow when you move on to choosing hardware for your patio door. First, when buying sliding doors, you typically choose between two types of handles: the standard handle or, optionally, a premium handle. Many companies offer additional handle options, such as for 8-foot patio doors. These handles are typically larger to suit the dimensions of the door. Depending on the patio door model, handles may also come in a range of colours. From white or black to bronze, nickel or brushed chrome, this is your chance to pick out a handle that matches your decor. At Vaillancourt, handles can also be painted in any colour of your choice.
After selecting a handle model, you can choose either a single or two-point lock. A single-point lock has one locking hook in the closing mechanism, whereas a two-point lock is equipped with two hooks for increased security. Some handles also provide the option for a keyed lock if that is what you need.
Two-point lock
For even greater security, you may also choose to add a foot lock or even a security bar to block movement of the door on the sliding track. These enhanced security measures are sure to provide peace of mind.

Foot lock                                                           Security bar
One of our largest patio door models comes with a lift & slide mechanism. This feature easily accommodates oversized panels without concern for the panel weight on the mechanism. When you lift the handle, the opening panel is raised on its track out of the weatherstripping, making it easy to slide a panel weighing up to 250 lbs. at the touch of a hand. When you lower the handle, the door is lowered as well and its weatherstripping is compressed on the threshold to keep the door in place. This mechanism allows manufacturers to make oversized doors.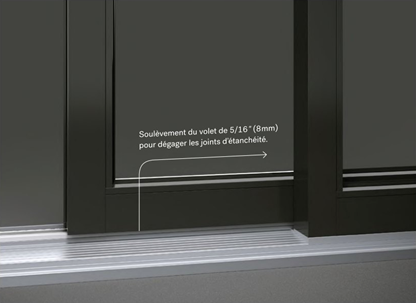 Lift & slide mechanism of the Loft patio door
Door hardware
The handle on your front door is probably the very first piece of hardware on your home that visitors notice—and nowadays you have the option to choose one to match your house's style. Handles are available in either contemporary or classic, and you can choose the style, material and colour that best suits the look of your residence. Each type of available handle offers its own advantages. The main handle types are:
Knob
A knob is a traditional choice for good reason: it goes perfectly with almost any style of decor. It's also easy to install and suits all door types.

Contemporary (Weiser)                                Classic knob (Weiser)
Lever
The lever handle has been very popular in recent years. Besides being easy to operate, it's also simple to install.

Contemporary lever (Baldwin)                      Classic lever (Baldwin)
Thumb-operated latch
Combined with a deadbolt, the thumb-operated latch offers a sophisticated look in addition to enhanced security. The handle and latch are designed to accommodate the natural shape of the hand for easy operation.
One caveat: take care when choosing a handle for your door, because not all handles fit a standard hole. If your door already has a hole, then you should go with a handle that fits the existing hole. If you want to install, for example, a European handle, then you will have to get it installed by a locksmith, who can drill the necessary holes.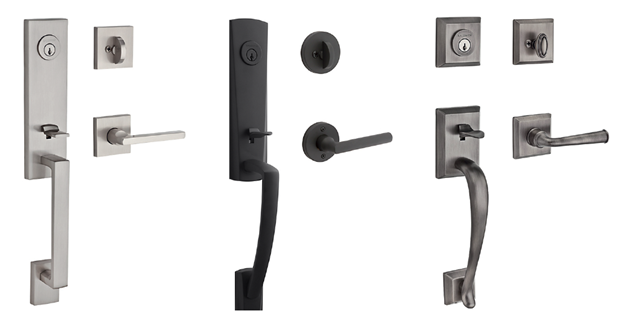 Contemporary latch       Rounded contemporary latch          Classic latch
         (Baldwin)                                      (Baldwin)                             (Baldwin)    
Hinges
Hinges are another hardware element that requires some attention. At Vaillancourt, standard zinc hinges are silver in colour. With optional ball-bearing hinges, you can select a finish and colour to match your decor and personal tastes (stainless steel, brushed nickel, Venetian bronze, yellow zinc, etc.). For example, you may want to have the hinges match the door handle. Ball-bearing hinges offer smoother operation with reduced metal-to-metal friction. They're also corrosion-resistant and require less maintenance.
From left: spring hinge, ball-bearing hinge, standard hinge
Apart from the hinges, you can also customize your door's threshold. In addition to reducing heat loss, the threshold contributes to the overall appearance of your doorway. Our aluminum thresholds are available in clear or black anodized colour to match your hardware.
Hardware can make a huge difference, so don't overlook its importance! You may even want to have other accessories match the hardware for a uniform look! From the doorbell to the mailbox lid (or mail slot cover if on the door) and house number, the choices are endless. Please feel free to contact one of our representatives for advice in response to your needs.