As part of the festivities surrounding our 70th anniversary, we found – almost by coincidence – a man named Michel Lafrenière. He confided in us that his mother lives in a home that still has its original Vaillancourt windows. Needless to say, he got our attention and Michel was generous enough to let us visit his childhood home.
Mrs. Lafrenière, now in her 90s, has lived in the aforementioned home in Drummondville for nearly 60 years. Her husband built the home for his wife and their 6 children in 1959.
From artist to designer
Michel remembers visiting Notre-Dame Street with his father and the plans for their future home in order to discuss the project with Raymond Vaillancourt. At the time, it was the beginning of the company and windows were being manufactured in the little garage behind his family's home.
Mr. Lafrenière, the father, had prepared the design for his home himself and designed windows that were considered very large for the end of the 1950s. "During the work, people would pass in front of the home thinking it was a school that was being built," remembers Michel.
Transportation was also a challenge, he remembers: "The design was avantgardist. Such large residential windows had never before been made. The size was a challenge for the design, but also for the delivery because of the road network at the time. I remember very clearly my father and Mr. Vaillancourt discussing it."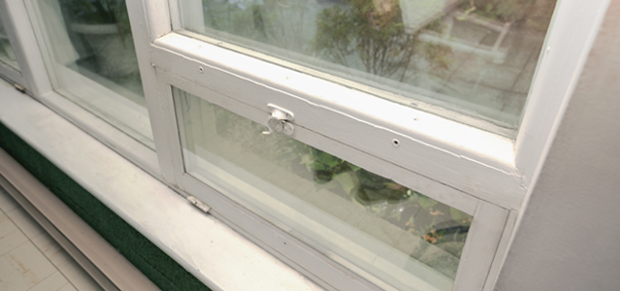 Visionary at heart
The products found at Mrs. Lafrenière's home are made of wood: the preferred choice of window manufacturers at that time. They are the first edition of what we now call "thermos". Raymond Vaillancourt installed two panes of glass in one window, separated by a wooden edging that gave an interlayer effect. A hole was drilled in the window to act as an aeration system against condensation. It had never been done before!
Michel indicated that he never saw any fog on the glass and that the windows never needed any particular maintenance over the years, and his mother never felt the need to change the windows.
Mrs. Lafrenière is most definitely our client with the oldest original windows that we have been in contact with. As she and her husband did, their children and grandchildren have all chosen Vaillancourt products in constructing their own homes.
From one generation to the next
Vaillancourt Doors and Windows is an ongoing family saga that has passed on the passion from one generation to the next. It is an honour to know that our clients also share this confidence and pass it on to the next generations. It is thanks to this brand fidelity that today we can still offer products with THE BEST limited lifetime warranty in the industry.